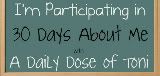 Toni at A Daily Dose of Toni is graciously hosting a 30-day meme to help us all get to know each other better. She has a theme for each day so that we can post something about ourselves. There are a good number of us participating so far. I'm excited to get to know more about my fellow bloggers and also to let others know more about me.
Day 10 - A Photo Taken Over 10 Years Ago of You & A Current One
I don't take a ton of pictures of myself...so please excuse what you see in this post LOL I took pictures of some old pictures of myself (please excuse my thumb) and I am including only one new one!
This is me in Kindergarten :) (25 years ago)
This is my Confirmation picture (12 years ago)
That's me in the front on a trip through my temple. We were in South Carolina. (12 years ago)
This is me a few months ago after getting my makeup done at the NARS counter. Let me tell you...I love NARS products!
Well, I have learned from this that I miss having physical pictures to go through. They are somehow cooler than computer pictures!