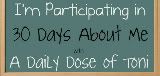 Toni at A Daily Dose of Toni is graciously hosting a 30-day meme to help us all get to know each other better. She has a theme for each day so that we can post something about ourselves. There are a good number of us participating so far. I'm excited to get to know more about my fellow bloggers and also to let others know more about me.
Day 9 - Something That Makes Your Life Easier
I am kinda old-fashioned on this one. I love my planner! It keeps my life organized and ensures that I never forget anything. I am trying really hard to embrace technology and use my phone "planner" but I just cannot get into it. And yes, it is blank this week. I guess I'm not doing anything exciting for the next few days. Gooooooo paper planners!