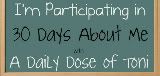 Toni at A Daily Dose of Toni is graciously hosting a 30-day meme to help us all get to know each other better. She has a theme for each day so that we can post something about ourselves. There are a good number of us participating so far. I'm excited to get to know more about my fellow bloggers and also to let others know more about me.
Day 17 - Your Biggest Insecurity & Something About Yourself You Are Proud Of
Yay, more easy ones!!!!!
I am most insecure about my weight. I love food too much to succeed at keeping weight off. A while back I was able to lose about 15 pounds and looked really good, but then I brought a friend to live with me and gained it all back.
I am most proud of my work ethic and my honesty. I am very hard-working and efficient. I get more done at work in an hour than some people get done all day. And I love that I am so honest that people believe whatever I say, because they know I'm incapable of lying. Sometimes I lie by accident and the correction comes out of my mouth before I know what's happening!